This poist has been moved here from
viewtopic.php?f=5&t=864
I was nine years old when WW-2 ended in 1945, about 4 years later I took a great interest in trying to figure out how the wire recording system
worked and so purchased my first used recorder magazine which had been published 2 years earlier in Summer 1947. There were only 4 issues a year then
My uncle had been a prisoner of war during WW2 and when he heard that I was interested in recording he gave me my first microphone, but I could
never get it to work as I could not find the correct plug for it.
It was a few years later that I discovered that my first owned Microphone was not complete and that it required the bottom half (The main bottle) to
make it work as well as requiring the PSU of course.
I have never sold it, as it is part of my families history and I have nearly purchased a complete one since, but they were always to expensive, in fact
I showed this microphone in the "History of Recording" forum some time back.
viewtopic.php?f=12&t=27
Its great to see another and I would love to see some close up pictures of all the individual parts that make up this historic microphone.
There have been many that came from Russian ex WW2 Vets as well, which were for sale many years ago.
I think they call it the "Spoils of War" its how John. T. Mullin (Ampex) obtained his first "TAPE" recorder the legendary Magnetophons.
viewtopic.php?f=12&t=29
Best Regards
Tony.
Capsule Case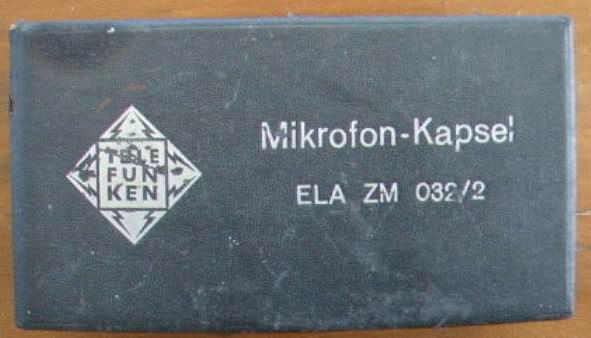 Capsule
Summer 1947 "Sound Recording" - Page-3